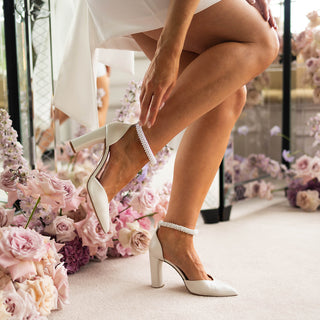 The Ultimate Guide To Wedding Shoes
Comfy Wedding Shoes
How to choose the best shoes for your wedding day
Did you know on average bride's tend to stand for 12 hours on their wedding day? This is why comfort is prioritised within all of our collections (along with beautifully crafted shoewear of course!). We all know the moment you put a shoe on you can tell if you will feel supported and comfortable wearing them. We want you to make those steps from Miss to Mrs feeling like you are walking on a cloud.
We use luxurious latex padding that has been tried and tested to ensure you feel the cushioning within your shoes. Alongside that, we use a soft luxurious leather so there is no need to worry about rubbing against your skin. Our wedding shoes are crafted with you at the forefront of our designs - this is why we are proud to have such a variety of bridal block heels to suit your purpose.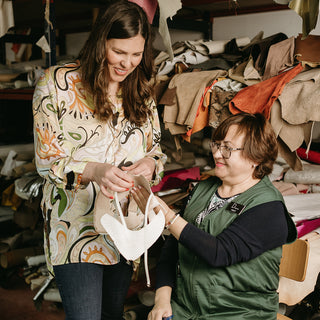 Craftsmanship
Charlotte Mills shoes wouldn't be possible without our fantastic Spanish production team - (a family run factory) tirelessly handcrafting our bridal shoes with love and care to ensure only the most beautiful and comfortable shoes for our brides. Each pair of Charlotte Mills shoes is meticulously finished with our signature details, which include an original silver sixpence inserted into every left shoe and a beautiful embossed sole.
Using nothing but the finest materials (incl: leather, pearls, crushed glitter) to ensure the products are the perfect-fit and texture. From pattern cutting, piping, stitching, trimming, buckles to finish - each aspect is handcrafted by the team. The average Charlotte Mills style is handled by 100 workers before arriving with our brides.
Finding The Right Fit
We have a range of block heel heights from low (1cm-4cm), to mid (7cm-8cm), to high block heels (9-10.5cm). Choose a style you feel most comfortable in. If you're unsure we have appointments available at our showroom The Aisle Edit, or you can contact customer service (info@charlottemillsbridal.com) for any further advice.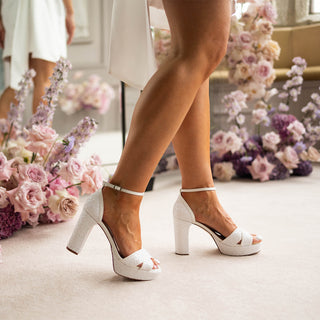 Introducing the wide fit range
Our Wide-Fit bridal shoe range are made in an EE fit. If you often find standard shoes are a little bit snug, we offer Wide-Fit across a range of our bestsellers to solve that for you. Our shoes are all hand made in the softest leather to ensure you have the ultimate comfort on your wedding day. Each style has a generous fit and our wide-fit straps include longer straps. 
On our product pages we offer an interactive size guide designed to ensure you find the perfect fit. 
If you are unsure and want any advice we are always here to help. Pop a message to our customer service team on info@charlottemills.com and we'll be more than happy to help.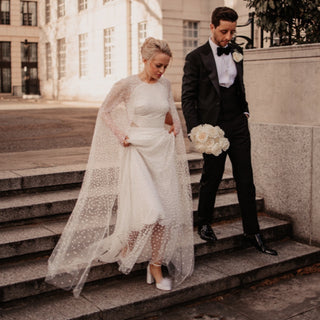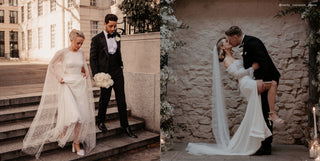 Real Brides
If you want to know the reality of wearing our bridal shoes - who better than our CM Brides to tell you?
Top 5 comfort features
The expert's tips for choosing your wedding shoes.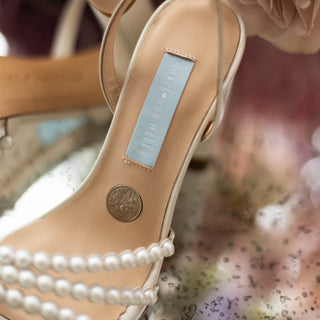 Something Old
Each pair of our wedding shoes has an original silver sixpence. This is your something old.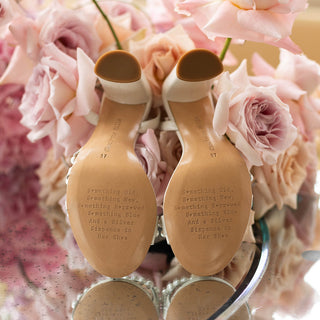 Something New
Your beautiful shoes are your 'something new'.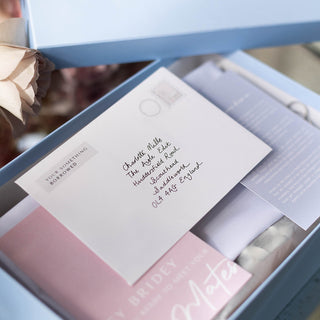 Something Borrowed
Each box has an envelope. This is 'something borrowed'. Return this after your big day with a picture of your shoes.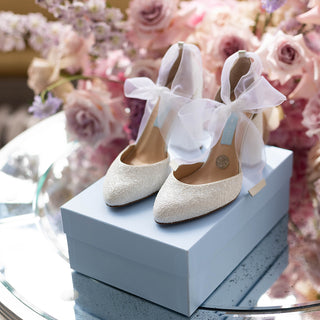 Something Blue
Our insock logo and boxes are your 'something blue'.
Still need help choosing your i do shoes?
We know there are so many options to choose from, which can often be quite overwhelming. If you are unsure of what bridal styles to choose then we would love to help. Contact our customer service team for some advice. We can discuss your wedding, the location, your dress and we will do everything we can to help you find your perfect sole-mates.